Ants are one of the most remarkable creatures that inhabit our planet, known for their hard work, complex social structures, and communication skills. However, when they invade our yards and gardens, they usually become a nuisance and a source of frustration. Sometimes we end up calling on ant pest control in Houston only for them to come back in numbers.
Understanding the causes of ant yard infestations and the solutions to control them can help you get rid of the underlying issues that are driving the invasion in the first place. Unless you get to the bottom line of why ants prefer your backyard, you may be in for a long, and ultimately, losing battle with these amazing insects.
Why is my yard infested with ants?
While ants are fascinating creatures that play a role in the ecosystem, their infestation can become problematic in our yards. By understanding the causes of their invasion and adopting preventive measures, we can coexist with these industrious insects and enjoy our outdoor spaces.
Food sources
Just like any living creature, ants are in constant search of food. If your yard provides ample food sources, such as sweet sap-producing plants, rotting wood, or other insects, ants are likely to colonize the area. Additionally, if you often have picnics or eat your meals outdoors, leftover crumbs and spills can also attract these tiny scavengers.
Water sources
Standing water or consistently damp areas in a yard can be a magnet for ants, especially during dry seasons when water becomes scarce. Overwatering plants or having areas with poor drainage can inadvertently create the ideal conditions for ant settlements.
Safe shelter
Ants build colonies to shelter their queen and offspring. Loose soil, cracks in concrete, under stones, or near tree bases can be potential nesting sites for ant colonies. As they expand their colonies, they may even pave pathways or create visible mounds in certain parts of the yard.
Lack of natural predators
A decline in the population of natural predators like birds, frogs, or other insects can cause a surge in the ant population. When these predators are absent, ants can proliferate without fear, leading to larger and more numerous colonies.
How do I get rid of ants in my yard?
Maintain cleanliness
Regularly clean up food residues, fallen fruits, or any other waste in your yard. Ensure that your garbage bins are sealed tightly.
Fix water leaks
Any leaky outdoor faucets, pipes, or irrigation systems should be repaired to prevent standing water. Ensure good drainage in your yard so that water doesn't accumulate in pockets.
Natural repellents
Some plants act as natural repellents to ants. Planting peppermint, tansy, or even common garden herbs like rosemary and sage can deter ants from settling in.
Diatomaceous earth
Diatomaceous earth is a natural insect killer and is especially effective against ants. It causes dehydration in ants upon contact. Sprinkle it around areas where ant activity is high, but remember to reapply after rain.
Biological control
Introduce or encourage natural predators. Birds, certain beetles, and spiders feed on ants. Having a birdbath or placing bird feeders can attract more birds to your garden.
Bait stations
These are available at most gardening or home improvement stores. Ants are attracted to the bait, consume it, and carry it back to their nest, effectively poisoning the colony.
Boiling water
If you can locate the ant hill, pouring boiling water into it can exterminate a large number of ants instantly. However, this may not always kill the queen, and the colony might re-emerge.
Seal entry points
Regularly inspect your yard for ant hills or nests. Seal off any cracks or crevices in your yard's pavement, walls, or foundation.
Seek professional help
If the infestation is severe, it might be time to call in the professionals. They have specialized treatments that can effectively deal with large ant colonies.
Where can I find a seasoned company that excels in ant pest control in Houston, TX?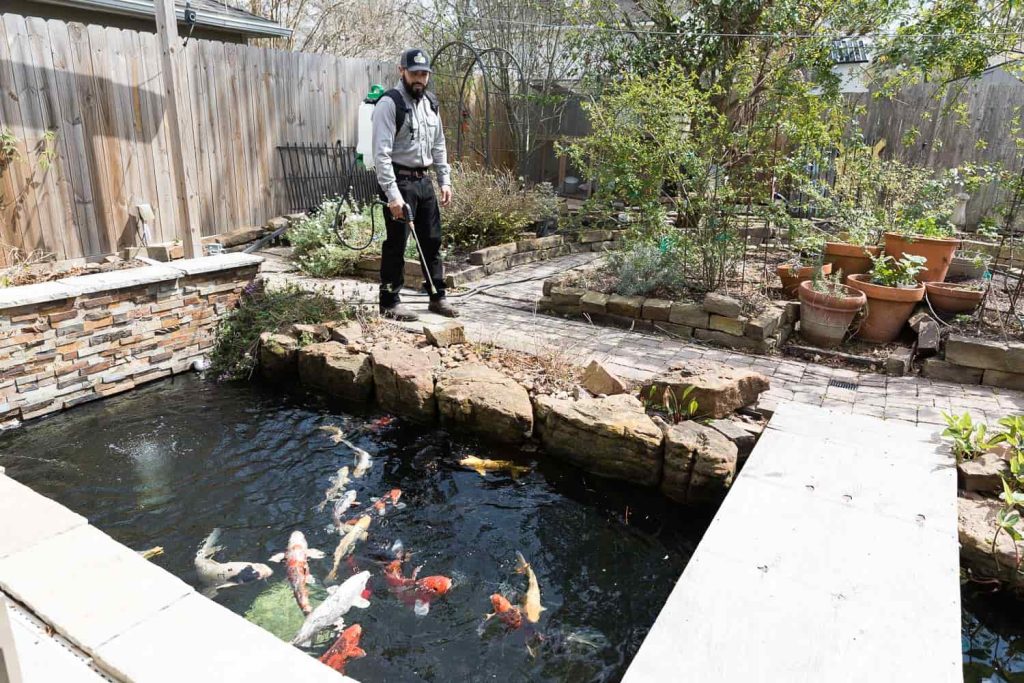 As one of the leading names in our field, Naturalcare Pest Control has quickly positioned itself as the go-to solution for people who want to get rid of different types of pests in the wider Houston area. With targeted treatments, vetted professionals, and a 100% satisfaction guarantee, we are primed to help you get rid of ants once and for all, eliminate ant colonies from your walls, and help you understand why ants suddenly appear as if from nowhere. 
Whether your residence is located in Houston Heights or any other part of town, we'll be there in a jiffy to eliminate the pests from your backyard and enable you to enjoy the full splendor of your cozy home. Let us stop pests in their tracks, call us today!