As a homeowner in Houston, it's essential to be familiar with the types of roaches commonly found in the area. Roaches are persistent pests that can infiltrate homes and pose serious health risks. Understanding their various species is the first step in effective pest management.
Since googling "roach pest control near me" will surely lead you to a lot of conflicting suggestions and advice, our experts will delve into the most common types of roaches found in the area, highlighting their characteristics and habits. Armed with this knowledge, you can take proactive measures to identify and address roach infestations promptly, ensuring a clean and roach-free living environment.
What species of roaches are commonly found in Houston?
Knowing the common types of roaches present in your area empowers you as a homeowner to identify infestations early and take proactive measures. If you suspect a severe roach problem, promptly contact a professional pest control company. Experienced technicians can accurately identify the species and implement targeted treatments to effectively eliminate roaches from your home.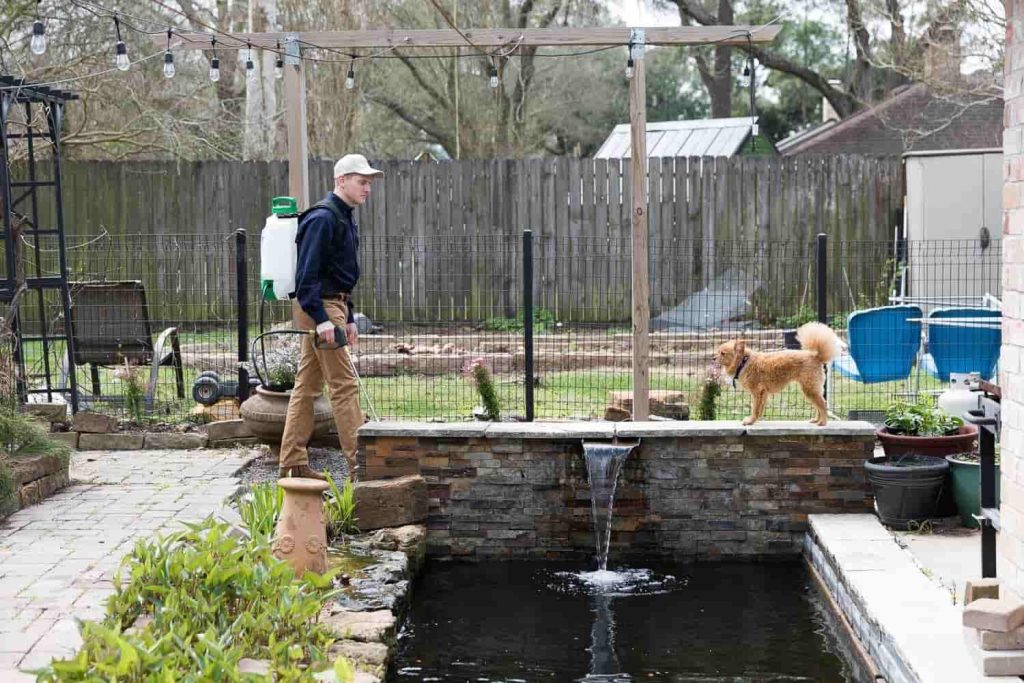 German cockroach (Blattella germanica)
This is one of the most prevalent roach species found in Houston homes. These small, light brown roaches have two distinctive dark stripes running down their thorax. They're prolific breeders and thrive in warm and humid environments. German cockroaches are often found in kitchens and bathrooms, where they have easy access to food, water, and shelter.
American cockroach (Periplaneta americana)
Also known as the palmetto bug, this is a large reddish-brown roach commonly found in Houston. With a distinctive yellowish figure-eight pattern behind their head, these roaches can grow up to two inches in length. They prefer damp and dark areas, such as basements, crawlspaces, and sewer systems, but can also be found in kitchens and bathrooms.
Oriental cockroach (Blatta orientalis)
This is a shiny, dark brown or black roach that prefers cool and damp environments. Commonly found in sewer systems, basements, and crawlspaces, they are also known as water bugs or black beetles. Unlike other roach species, Oriental cockroaches are not agile climbers and are typically found at ground level.
Brown-banded cockroach (Supella longipalpa)
The brown-banded cockroach is a smaller species with distinctive light brown bands across its wings and abdomen. Unlike other roaches, these pests prefer dry and warm environments. They're often found in bedrooms, living rooms, and other areas away from water sources. Brown-banded cockroaches can also infest electronic devices and hide in small cracks and crevices.
Smokybrown Cockroach (Periplaneta fuliginosa)
This cockroach is dark brown to black and larger than the German but smaller than the American cockroach. They are skilled fliers and are commonly attracted to lights at night. Smokybrown cockroaches prefer outdoor environments and are often found in trees, shrubs, and mulch. However, they can enter homes seeking food and shelter during certain weather conditions.
Identifying a roach infestation
Recognizing the species of roaches present in your home is crucial for effective pest control. Look for the following signs of a roach infestation:
Fecal droppings. Roach droppings resemble small black specks or coffee grounds and can be found near food sources and hiding spots.
Egg casings. Roaches lay egg casings, called oothecae, that can be found in hidden areas such as crevices and cracks.
Musty odor. An unpleasant, musty odor can indicate a large roach population.
Live roaches. Spotting live roaches, especially during the day, is a clear sign of an infestation.
With vigilance and expert assistance, you can maintain a clean and roach-free living environment, protecting your home and family from the health risks these pests pose.
Where can I find reliable roach and pest control near me?
Don't let roaches take over your home! Reclaim your living space with Naturalcare Pest Control Services. Our experienced technicians can identify and eliminate infestations effectively, ensuring a clean and pest-free environment. Say goodbye to roaches for good, and enjoy the peace of mind you deserve.
Enjoy a family day at Sylvester Turner Park while our experts handle your roach problem, so you can return to enjoying your home to the fullest. Call us today!